How QuickeSelling is Different from Shopify & other E-commerce Builders?
March 7, 2020
In a bid to efficiently manage the processes of their business, many business owners are turning towards SaaS E-commerce platforms. Due to the advent and the large-scale acceptance of these platforms, setting up an online store has become much easier. Let's start with the basics.
What are SaaS E-commerce platforms?
Software as a Service, aka SaaS, works on the software licensing and delivery model, wherein the software is licensed to a user and is accessed via the internet. SaaS E-commerce platforms are just a small chunk of this major industry.
SaaS E-commerce platforms offer inbuilt shopping cart functionality, basic product management, marketing functions, and hosting and maintenance by the service provider, and so on.
What is Quick eSelling?
Quick eSelling is one of the premier E-commerce platforms that offer detailed and customized mobile and web solutions for budding businesses from scratch. The software essentially takes care of simplifying E-commerce for your business so that you can focus on your product, clients, and other areas of your business. Quick eSelling enables users to monitor every area of their business and is suitable for all types of businesses; online, retail, as well as on-the-go businesses.
Why you should choose Quick eSelling for your E-commerce Business?
One of the biggest advantages of using Quick eSelling is that it gives your business the opportunity to realize its full potential and leverage it through the platform's design, creation, and maintenance of website and mobile applications. Quick eSelling comes with an array of in-built features that help sellers run business transactions effortlessly, whether they are online or offline.
Quick eSelling comes with a broad range of mobile marketing tools that help expand your client base. The fast loading speed of the platform ensures that the apps remain responsive and provide a good browsing experience to its users.
Additionally, the entire data pertaining to your business is integrated across various devices. Thus, consistent information is available across all the platforms, no matter which device you are using to access the information.
The search engine optimization (SEO) features of Quick eSelling platform gives your ecommerce store online visibility on all major search engines. This helps make your business accessible to your target customer base, thereby increasing the organic views on your website and app. This can, in turn, lead to possible conversion of such leads into actual revenue.
Quick eSelling also provides live chat and automated messaging features, which can be capitalized to turn your customers' product wishlists into actual sales.
Quick eSelling Features:
It is a highly cost-effective E-commerce platform which is a fully-managed and hosted commerce solution.
It offers multi-currency and multilingual options, with a variety of secure payment gateways like Paypal, Paytm, RazorPay, etc.
It has an easy to use drag and drop interface and advanced CMS.
It has extremely powerful and automated marketing tools.
It comes with a uniform dashboard for cross-platform applications.
It is integrated with many CRMs like SAP, Microsoft Dynamics, Quickbooks, etc., as well as your various social media profiles.
The mobile applications work well with both Android and iOS devices.
The E-commerce website and apps are SEO optimized.
The platform gives excellent customer support and is continuously upgrading to enable the best user experience.
And many more
How Quick eSelling is Different than other E-commerce Builders?
The competition in the market is heavy with various E-commerce platforms offering tailor-made solutions to business owners. Let's understand how QuickeSelling is different as compared to its other ecommerce builders?
Quick eSelling vs Shopify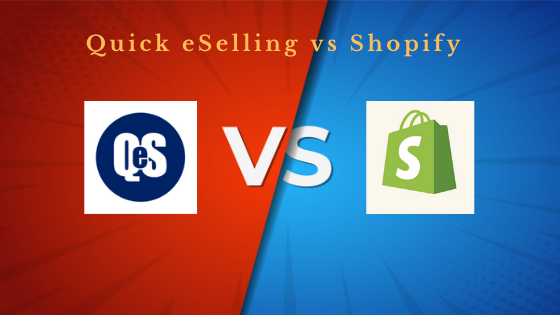 Shopify is one of the top E-commerce platforms available out there, which provides the necessary features to take your business online. You can use Shopify for fashion stores, electronic stores or to build the other kind of online stores. However, Shopify also has certain drawbacks since it is not an open-source platform. Add to that, advanced customizations are not easy and transaction fees run high.
Quick eSelling has a massive advantage and is considered one of the best alternatives to Shopify. It is the only E-commerce platform that provides a free website and native mobile app to its users with all standard features. Its free plan to launch app and website and comparatively quick and easy setup is what sets Quick eSelling apart from Shopify.
Read a Detailed Comparison of Shopify vs WooCommerce
Quick eSelling vs Prestashop
Prestashop is a widely used E-commerce platform used by business owners across the globe. Although it is a low-cost platform that provides marketing solutions and product management, it becomes expensive with the addition of advanced features and upgrades.
On the other hand, Quick eSelling is a free E-commerce website and mobile app builder that allows you to build an E-commerce website as well as a native app. The platform is especially great for budding entrepreneurs to go online instantly at zero capital investment, which might not be the case with Prestashop. Quick eSelling provides advanced E-commerce features for better customer engagement and customer retention. Additionally, the platform is easy to use and designed specifically for early age startups.
Quick eSelling has many features that are giving it leverage when pitted against comparable E-commerce platforms and is steadily becoming a hit among entrepreneurs.