Start Your Digital Entrepreneurship Journey This Diwali with Quick eSelling's 50% off Offer
October 10, 2019
Diwali- the festival of lights and prosperity, comes with a lot of expectations on the part of a retail entrepreneur. People start spending on clothes, jewelry, electronics, and nearly anything and everything. It would not be wrong to say that Diwali is the annual shopping extravaganza for millions of shoppers.
With the increasing penetration of the internet, people are slowly inching towards eCommerce to meet their Diwali shopping needs. This changing shopping pattern in favor of eCommerce can mean losses for your conventional business.
Don't sit back and feel sad about the growth in online shopping. Start your own eCommerce store, easily without any coding or large investment with Quick eSelling.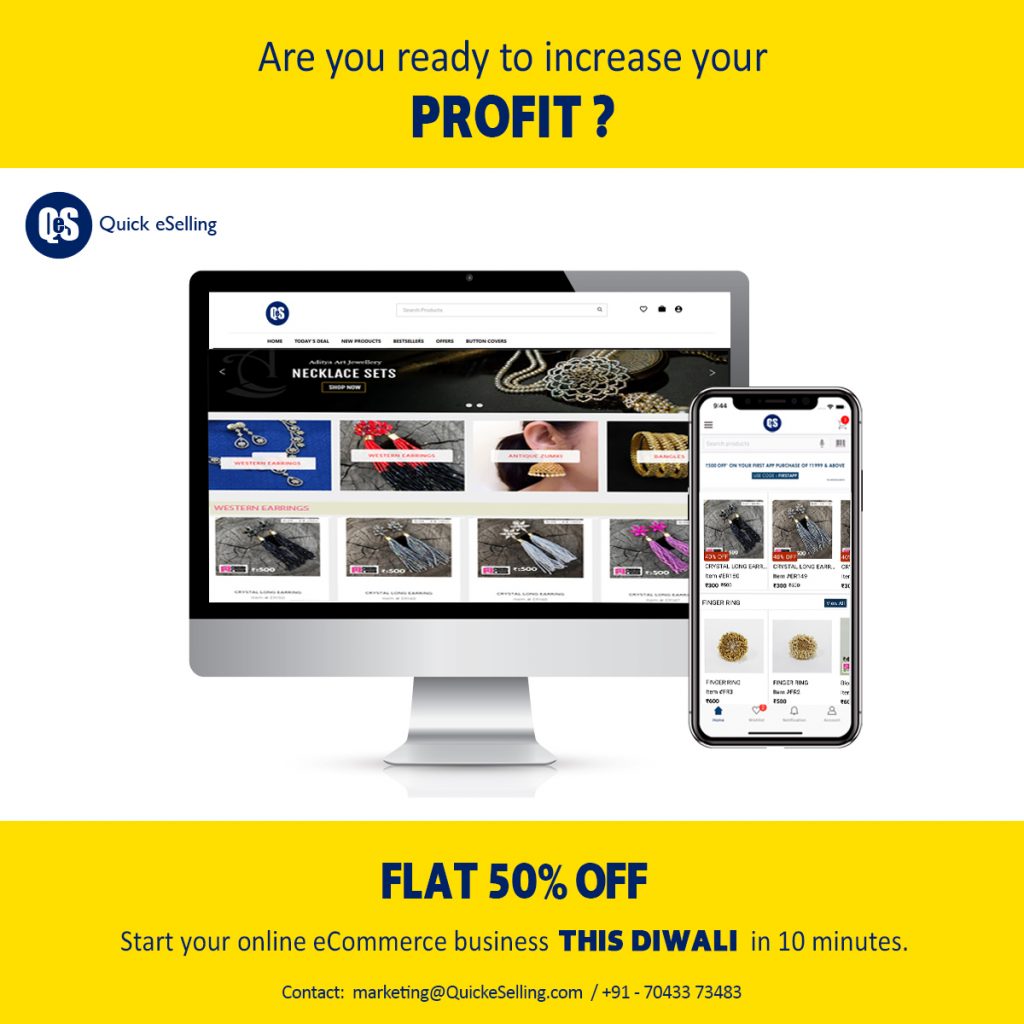 Quick eSelling is a powerful readymade eCommerce website and mobile app builder that helps you launch your mobile app and eCommerce store, without much fuss. If you're in the retail business – apparel, jewelry, white goods, electronics or general merchandise, Diwali is the right time to enter the eCommerce ecosystem.
What's more, Quick eSelling is offering a flat 50% discount on its Standard and Pro plans. With Quick eSelling get complete support and assistance in launching your mobile app and eCommerce store within days, not months. What better growth hack you can use to enjoy a flourishing business season, this Diwali?
Here are some of the benefits you can avail with Quick eSelling:
100% Native iOS & Mobile App for Your Business
Feature-packed eCommerce store
Comprehensive launch and marketing support
Insightful training on how to leverage the digital business opportunity
End-to-end payment gateway support
& several other features to help you build an online brand for a lifetime.
All you have to do is just claim your Quick eSelling Diwali offer is visit the link, enter your details and get started with your business growth journey!
So, what are you thinking? Launch your own eCommerce business today with confidence with Quick eSelling- The eCommerce Partner for Hundreds of Brands, Globally!