Why is Quick eSelling the Best Ecommerce Store Builder to Launch an Online Store in India?
August 19, 2020
The Indian eCommerce industry has seen the entry of several global giants like Walmart, Amazon, and Alibaba. Along with this, the spectacular growth of the local companies like Flipkart has shown a land of promise to the eCommerce industry. Beyond the entry and growth of these giants, the industry itself is showing outstanding promise.
In 2018, the Indian eCommerce market was valued at about $50 billion. This number is projected to grow several folds by 2027, hitting the $200 billion mark. Any business that wants to grow in India will have to objectively consider the online route.
In going online, of you want to take care of the margins, maintain consistent quality, and build a brand, you should ideally have your own eCommerce platform in place. However, the route to building an eCommerce store often includes several person-hours, hundreds of thousands of rupees, and dealing with several vendors. If you want an efficient turnkey solution that is trusted by millions of eCommerce websites globally, you should go ahead with Quick eSelling. Wondering why?
Here are some major reasons why Quick eSelling is the best eCommerce store builder in India:
1. Free Plan that Delivers Great Value. There are several online and offline systems available for establishing your eCommerce platform. Many of them are also available on the freemium model, where you can get the basic features in a free package and pay for the rest as you need them.
While Quick eSelling works on the same model, it delivers exceptional value – even with its free version. The value proposition focuses on giving you everything you will need to get your online store running. And then, when your business model has evolved, and in need of advanced features, you can move with paid packages at your convenience.
2. Efficient Development: Takes 10 minutes in deployment with zero coding necessary.
If you are a trained web developer, you might have an easy time deploying solutions that are generally tagged 'zero coding necessary.' When you start working on them, you will discover that even if you are not writing the code, you have to have a great understanding of UX Engineering, backend operations, or frontend processing.
Quick eSelling is a truly 'zero code' hosted solution that does not make you go through any of the stress of other conventional less code or no-code platforms. Since it is used by thousands of businesses globally, most of the features are available in a turnkey fashion. With the help of the Customer Success Team and a readily available catalog, you can have your online store running in as little as 10 minutes.
3. Get Advanced Features Like BOPIS and Contact-Less Delivery Integrated from Day One of Operations.
A software vendor would take anywhere between a few days to a few months in building a launching a new feature on your platform. Quick eSelling ecommerce platform develops new features by pulling insights given by millions of eCommerce stores globally.
This is the reason why many advanced features like Buy Online and Pick Up in Store as well as Contact-Less Delivery are available on-demand, as soon as you need them.
4. Central CRM System for Managing the App and the Website.
Your online store is just the beginning. After you make the initial sales, you will have to retain the customers. And that would necessitate investments in a CRM system. Most off-the-shelf CRM systems come with a big price-tag. Plus, you might need different CRM systems to manage your application and website conversions and retention.
Quick eSelling is platform-independent. It pulls data from all the sources across your apps and website and gives it to you in an easily accessible format on one platform. Save time and monitor each conversion.
5. Industry-Agnostic Platform that Can Be Moulded for Any Vertical.
Some businesses need special features that are not available in the standard version of plug-&-play platforms. For such businesses, Quick eSelling has a custom feature functionality available.
You can take the base platform and mold it to perfection, in line with your business model, industry, or demand-supply trends. That is what makes Quick eSelling the best eCommerce store builder in India – it is versatile and good for industries as varied as groceries, FMCG, fashion, electronic goods across B2C, and B2B verticals. It is a one-stop solution for different industries.
Also Read: On-Demand Grocery Food Business Ideas 2020
6. End-to-End Security Along with High Customizability.
Have a secure platform that is not very customizable, and you will not attract leads. Have a platform that is highly customizable and not that secure, and your converted customers might leave the platform.
Quick eSelling gets you the best of both worlds. Its customizable features are still backed by the comprehensive security system that runs parallel to the apps, website, ERP, and CRM.
7. Third-Party APIs.
At some point, you will want to offer your audience a truly seamless cross-platform experience that works across all major brands. Quick eSelling ecommerce store builder works with equal efficiency in conjunction with payment gateways like Amazon Payments, Razorpay, Paypal, PayU Money, Paytm, and PayU Biz. It also works flawlessly with Amazon, Flipkart, and eBay for eCommerce integrations as well as ERP systems like Quickbooks, SAP, and Microsoft Dynamics.
8. Value-Adding Features for More Effective Marketing.
Your platform will attain its targeted success when the CRM system and the website's features are working in absolute tandem. Quick eSelling ecommerce platform supports your marketing strategies with the help of push notifications and discount coupons integrated into the platform, available with an easy to launch the workflow. Plus, the SEO-friend elements give you an eCommerce store that is optimally configured to meet major search engine guidelines.
9. Consistent 24 x 8 Customer Success Support.
A platform that is used by millions of businesses across the globe has to be available to support its customers round the clock. This can help your business, irrespective of what is the scale of your business. The Quick eSelling Customer Success & Support team is available every day, across the week, throughout the year. From integration, to launch, to scale – all expert help will be just a call, mail, or chat away.
10. Proven Model of Success Trust by India's Biggest Brands: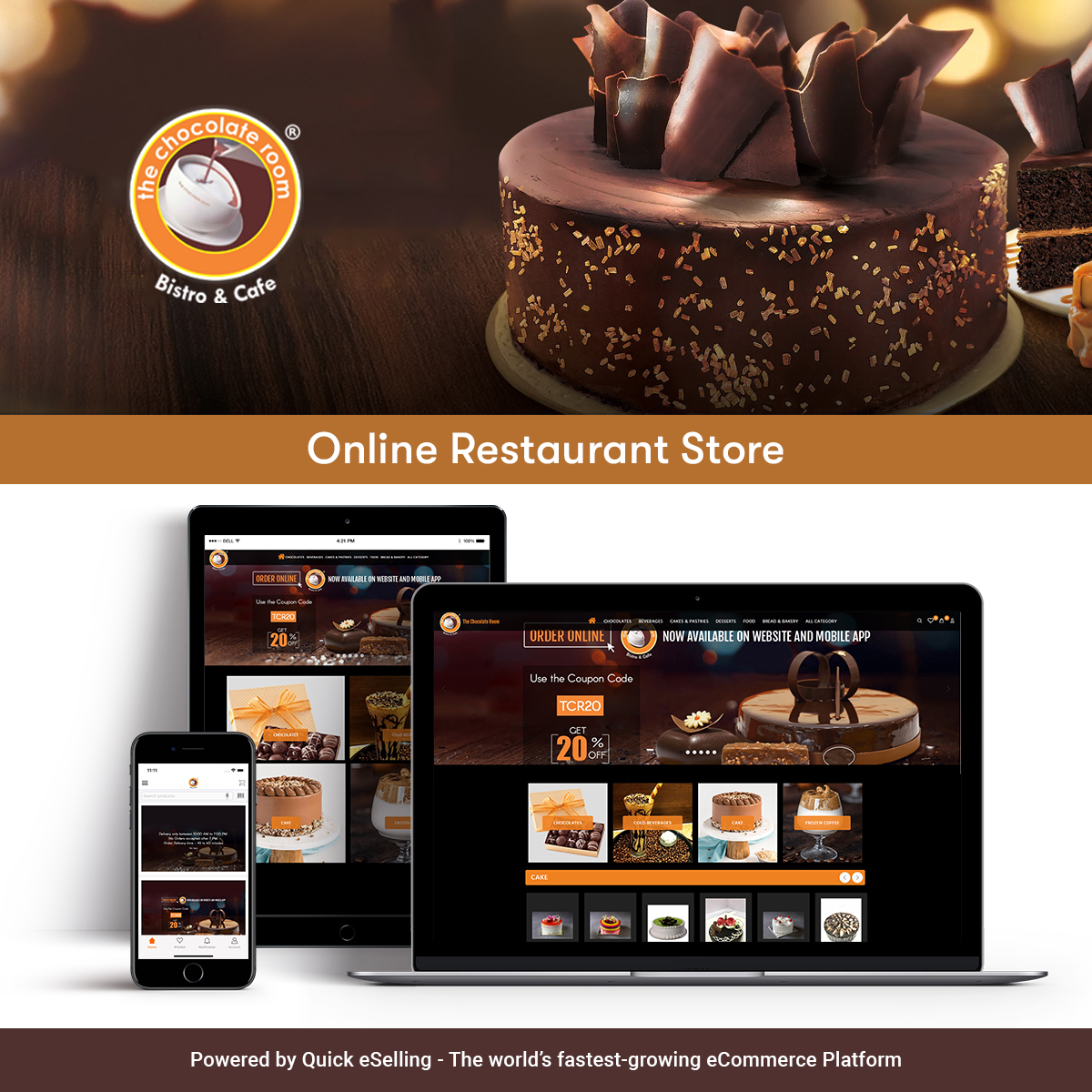 Major brands like Nova Distributors and Chocolate Room have their eCommerce websites powered by India's top eCommerce platform – Quick eSelling. The platform has helped them grow their operations at scale, with remarkable efficiency, while helping their customers get an exceptional experience.
Read case Study: Nova Distributors scales up operations while cutting operational costs with Quick eSelling
In Essence
All the establishment, growth, and scale of your online store is just a push away. Get in touch with the Quick eSelling Customer Success Team and get started with your online growth trajectory today.
Sign up here to start your Online Store for Free in Just 10 mins:
https://signup.quickeselling.com/home/registration